Safari in Tansania

As Tansania is one of the best places in the world for a safari, it might be a good idea to plan on doing a safari before or after the conference.
As you might be doing the safari with other participants of the conference, we were searching for a great safari tour company and have arranged a possible safari tour for the speakers and participants.
The tour company is Nr 1 on tripadvisor and has great recommendations - Easytravel and Tours.
So we have the following suggestion:
7 day Tanzania Classic Safari
It is 7 days program with accommodation based on Comfort. The itinerary covers Serengeti, Ngoro Ngoro Crater, Tarangire and Lake Manyara which are one of the great highlights for the parks in Northern Tanzania. The Tanzania Classic Program is one of the best program that is loved by many clients since with it you will have the opportunity to visit the Northern Circuit National Park without a rush.
COMFORT: - quality and price, in perfect balance
Accommodations options offered in this category, are medium priced small tented lodges/camps with private bathroom facilities. These are small in size which assures personalized services and excellent ratio between quality and price.
SAFARI VEHICLES:
With regards to safari vehicles, kindly note that we normally use 4x4 Toyota Land Cruiser which has a pop-up roof for ease of game viewing. The vehicle has a capacity of 6 passengers sitting comfortably with a guaranteed window seats. Our vehicles are also fitted with Radio Call for ease of communication during game drives or in the event of rare breakdown. However, tour members are restricted to one soft-sided duffel bags one carry-on bag. Hard-sided suitcases are not recommended for our safari vehicles because they are bulky to store. They are also equipped with mini cooler box for the purpose of keeping drinks cool but during the time which the engine is running. Please click this link for more information about our safari vehicles: http://www.easytravel.co.tz/our-safari-vehicles.php
Starting and Ending point of this trip -
This itinerary is based on the pick-up from Kilimanjaro International Airport with a road transfer to Arusha for a night prior to commencement of the trip. However, there might be additional cost for accommodation in the event you arrive with Turkish Airlines flight which traditionally arrives here after mid night whilst the normal check-in time in the lodges is at 10:00 A.M. Similarly, the departure is also out of Kilimanjaro International Airport unless you provide us with different departure details.
Kindly find the below program and please share your thoughts.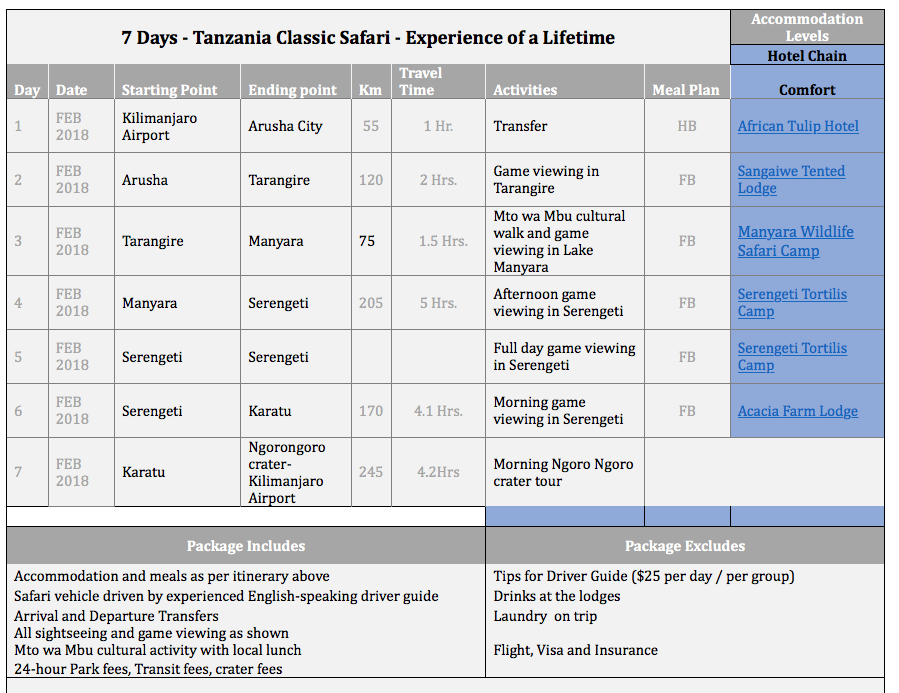 Costs:
There will be up to six persons per vehicle. So dependent on how many participants we will have, we can get several cars. The costs depent on how many people we are but the range will be /assuming we will get at least 15 people together) between 2368-2438 USS per person.
If you would like to join our safari tour, lets us know when you register and we will give you further informations!